Winter Garden in the Courtyard through Dec 24th. Food, drinks, rent an Igloo!
 Restaurant Hours
Wednesday – Saturday  12 – 9pm
Holiday Hours Sunday 12 – 8pm 
Closed Christmas Eve
BOOK AN EXCLUSIVE PRIVATE DINNER / TASTING AT THE MUSEUM
Bottles salesroom is open and offering local delivery/pick up

Bottle Sales Store Hours
Wed/Thurs 12-6PM , Fri/Sat 12 – 8pm
Open During Restaurant Hours
Museum open for self guided tours during restaurant and bottle sales hours .
Join or Rejoin the Sun Inn.
Membership has never been better.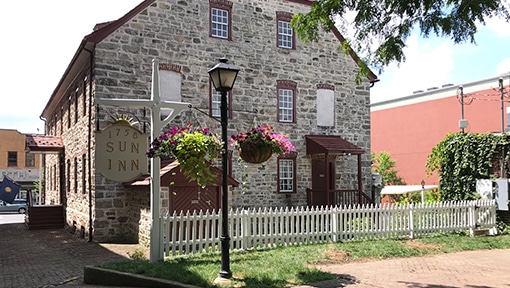 A HISTORIC AND CULINARY LANDMARK
History, food and spirits come together at the Sun Inn on Main Street in Bethlehem, Pennsylvania. Built in 1758 by the Moravians, the Sun Inn was well known in Colonial times for its excellent food, outstanding hospitality and comfortable accommodation hence many dignitaries of the era traveled to Bethlehem to stay here including George Washington, Alexander Hamilton, Ben Franklin amongst many others.
Today, the Sun Inn, along with its museum, is offering a taste of Bethlehem's Colonial past with Tavern at the Sun Inn and Christmas City Spirits. 
Visit the Sun Inn to explore an important part of America's past while tasting the future of downtown Bethlehem dining, while you're there, don't forget to look for the Sun Inn's other spirits – its renowned ghosts.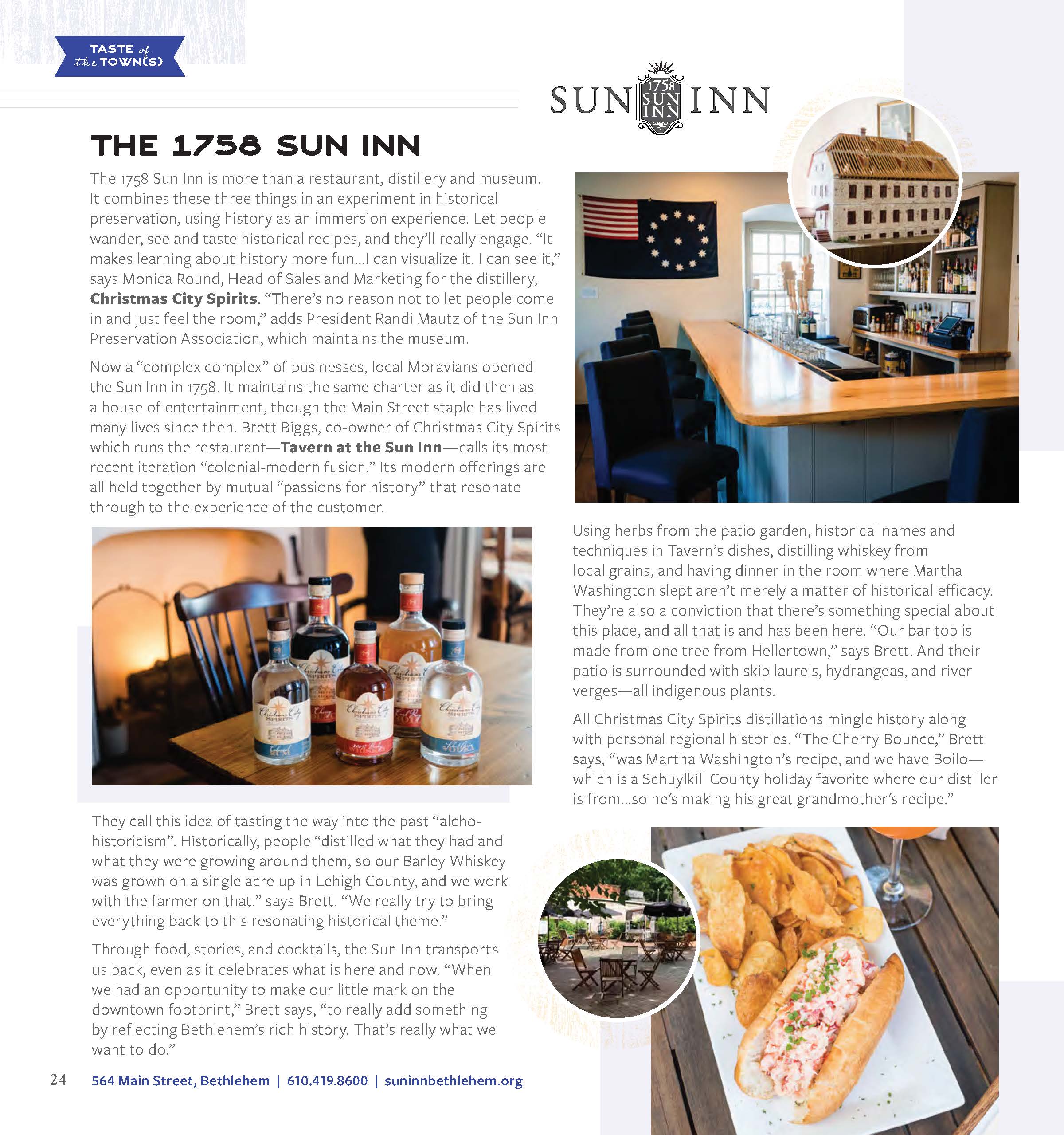 BE PART OF THE SUN INN PRESERVATION ASSOCIATION
Sun Inn Preservation Association (SIPA) is a 501 (c) 3 that manages and maintains the Sun Inn. Help preserve the Sun Inn. Become a member and receive discounts to the Tavern at the Sun Inn food.
MEMBERSHIP
Join the INN CROWD
The Town Crier
For all the latest news