What is happening at the Sun Inn, Tavern at the Sun Inn, and
Christmas City Spirits?
The Sun Inn is thriving! A lot is going on here and we are trying to keep you in the loop. We have two great partnerships. The Tavern at the Sun Inn restaurant and Christmas City Spirits. The Sun Inn Preservation Association is still actively maintaining the museum and the building and surrounding properties associated with the Sun Inn. Sign up for our newsletter to hear about all the latest news as it unfolds. So much is happening and changing.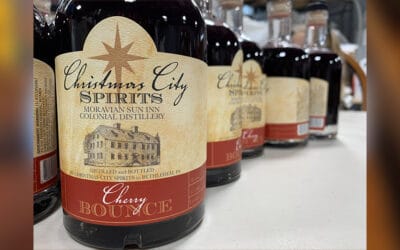 Why We're declaring February: National Cherry Bounce Month Hints: George Washington and Chocolate "I want the 'The Cherry Thing', Cherry Bling, Cherry Whisky, Cherry Bourbon." Whatever it is you call it ('cause we've heard all the names) it's Cherry Bounce, our 17th...
read more
BE PART OF THE SUN INN PRESERVATION ASSOCIATION
Sun Inn Preservation Association (SIPA) is a 501 (c) 3 that manages and maintains the Sun Inn. Help preserve the Sun Inn. Become a member and receive discounts to the Tavern at the Sun Inn food.
MEMBERSHIP
Join the INN CROWD
The Town Crier
For all the latest news