PROVIDER INN FOCUS:
Center Valley, PA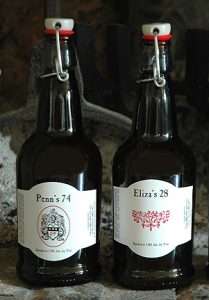 When we were introduced to Damian Siekonic late this summer through a mutual acquaintance, the Tavern Crew got very excited. We knew we had found a perfect producer to complement our project. Colonial reproductions of historical beverage recipes are right up our alley, not to mention he is right in our backyard. (We LOVE local.)
Damian, who brings with him an impressive resume of historical media productions through his company Privateer Media, LLC, decided to start a research winery in the cellar of his 18th century farmhouse. Here he would produce limited quantities of historically accurate wine, ciders and meads, with his guest ciderist Mark Turdo, They began to research historical recipes and methods for producing some very unique libations from the past. Produced in very traditional methods to the exact specifications and in sizes reminiscent of an era gone by without any shortcuts, these products are the closest thing you could have to tasting what our forefathers drank. No additives, flavors, or sulfites, these are natural products at their finest.
We are proud to say we will feature the rotating product offerings from Blackledge here at Tavern at the Sun Inn as we feel it is an important part of our mission to maintain a sense of history in everything we do. These products are made in small single batches and we will offer them as availability provides. You are invited to come and experience a truly historic beverage, or two, in a truly historic setting.
Current Offerings:
"ELIZA's 28" CIDER
Taken from Eliza Smith's cookbook "The Compleat Housewife" printed in 1728. Heirloom apple cider and raisins naturally fermented using the fruit's wild yeast. Very dry, still, unfiltered & with no added sulfites. Barrel-aged it in a Laird's Apple Brandy barrel. Gluten free. ABV 7.8%
"PENN 74's" CIDER
A 1674 recipe from the William Penn family cookbook. Heirloom apple cider, raisins and spices naturally fermented. Very dry, still, unfiltered & with no added sulfites. Gluten free. ABV 7.4%
In the fermenter:
Among other things, Blackledge is currently doing research on a traditional colonial Cabernet Franc (13.5%ABV), a 1795 honey/apple cyser (11.5ABV) and an hierloom single-varietal Golden Russet cider (8.5ABV), all fermented naturally using the fruits' wild yeast, and a with no added suflites.  Pending final review in the coming months, They hope to release some of it to the Tavern at the Sun Inn for their patrons to enjoy.