It's Easter Sunday and things are a little more relaxed around here for a change. (Ya'll are keeping us busy! Thank you!) With the warm weather and a little extra time I decided to fire up the smoker and smoke my own pork loin over buying a ham this year. Just trying to spice up Easter dinner a bit. In that interest, looking around the fridge I saw a half a pack of uncured bacon sitting in the meat drawer and was inspired to pull it out to marry it with our main dish somehow.
I've done double smoked bacon before, using a sweet coating to jazz it up and get that lovely sweet /salty thing going on. I've used maple syrup as a marinade, brown sugar/sriracha and a couple other combos that came out pretty well, but I wanted something different. Looking around the kitchen I scanned the room a few times, looked in the pantry and at the mish-mash of jams, sauces and dressings in the fridge, then in my BBQ closet a red label caught my eye. Eureka! There it was, cherry woodchips that I had soaking in a bit of Christmas City Spirits 100% Barley Whiskey batch #2 for several months. I ran for the Christmas City Spirits Cherry Bounce in the liquor cabinet, looked at it and I said, "Well, why the hell not???" The cordial is made with whole natural dark sweet cherries, tart cherry juice and a hint of spice (not to mention the alcohol). How could that combo go wrong?
So three hours later these lightly candied magical wands of pork belly were ready and are truly unbelievable…. sweet, salty, smoky with a hint of fruit. I think you could just eat them straight and be perfectly happy but other thoughts would be to chop them up into a tasty salad topper or addition to a mustard sauce for pork or chicken. Hell, you could even use these a the best swizzle stick you've ever had for a Mount Vernon Manhattan (recipe Below).
It's not really a recipe as it's not very complicated, more or a short set of instructions to create these:
Time required: 3 Hours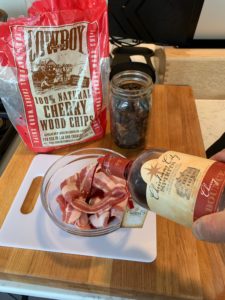 Ingredients:
6 Rashers (1/2 lbs) Uncured Bacon
2oz Christmas City Spirits Cherry Bounce
4oz of Cherry Woodchips soaked in whiskey (preferably Christmas City Spirits 100% Barley Whiskey batch #2)
2oz Mesquite Wood Chunk that is soaked in water
1.) Soak your Mesquite in water and add a little water to the Whiskey Soaked Cherry Chips.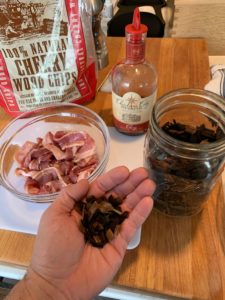 2.) Put bacon in a medium bowl and top with the Cherry Bounce, mixing lightly with you hand to coat them
3.) Turn over the bacon every 15 mins for an hour to recoat all the rashers and get that bacon good and drunk on Cherry bounce
4.) Prepare your smoker to 225F, put wood chunk/chips in to get it smoking per you smokers direction
5.) Place bacon in smoker in a single layer, save excess cherry bounce on bowl
6.) Smoke for 2 hours, baste lightly every 30 minutes with remain cherry bounce.
7.) Enjoy with pretty much anything including as a swizzle stick for a Mount Vernon Manhattan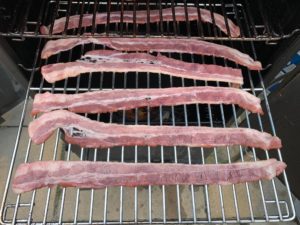 Mount Vernon Manhatten:
3oz Christmas City Spirits 100% Barley Whiskey batch #2
1oz Christmas City Spirits Cherry Bounce
1 dash of bitters
Dark Cherry Garnish